Jane Stoker let me down. I refer to the same Jane Stoker who – as I'm sure you know – was lecturer of Domestic Economy at Stockwell Training College, London, England, back in 1876. I'll give you the full facts and let you judge if my complaint is not justified.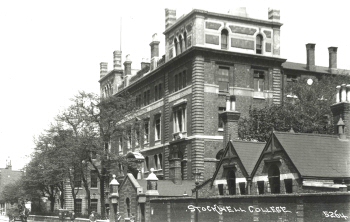 I was browsing around an antique books shop in London, when my gaze fell on a book titled "HOME COMFORT: A Complete Manual of Domestic Economy for Schools and Colleges". The price was stiff (GBP 24), but as soon as I got to page 8, I decided to make the investment. Page 8, which couldn't be more in tune with my own thoughts, states in no uncertain terms:
     "The father should indirectly rule the house. His wishes, expressed or understood, should be law: the household arrangements should be made with a view to his comfort and convenience…Home should be to him a haven of rest. He should not directly interfere in the management of the house, which is the wife's province, nor should he be in any way troubled with houselhold matters."
Jane immediately clicked with me. My kind of training-college lecturer, I thought. At-a-girl, Jane! I flipped the pages quickly to see if they held more good stuff, and found plenty. You can judge by yourselves by clicking on the cover to download an excerpt in PDF format.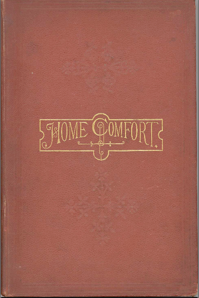 I didn't actually get to study the book in the shop, because the owner – a gloomy, diffident bird who had kept watch over me, apparently to make sure that I wasn't pocketing any book – started making impatient faces; so I disgorged the ransom for the book and took off.
Imagine my delight when I read the explanations on page 9:
     "The children in a household must be in perfect subjection to their parents…As early as possible, the little ones should be encouraged to help their mother, and be thoughtful of her comfort…The children of the ideal woman 'rise up' in reverence, 'and call her blessed' in gratitude and love."
Well, I thought, that would certainly work for me and my wife!
I read the book avidly. It contains helpful hints on many interesting subjects, from "Bacon", through "Children, Management of", as well as "Fainting", Grievances of Servants", "Small-Pox" and "Whooping Cough". A gold mine, indeed!
By the time I flew back home I had mastered most of the book (although I was still a bit foggy regarding the proper use of Bullock's Gall to scour a carpet - page 77), and immediately proceeded to put its advice into practice by embarking in the long-overdue education of my kids. But lo and behold! They refused to play ball. Flatly and finally. They declined to be "the hewers of wood and the drawers of water". When confronted with Jane Stoker's book they were unimpressed and said things about her that I cannot repeat on a blog.
And I wonder, is that my fault, or was I scammed by Jane Stoker? I don't believe that the children that she wrote about ever existed. She just stringed everybody along to sell books to poor saps like me.
Do you have an 1876-model kid? If you don't, join me in my misery and leave a comment on my blog!