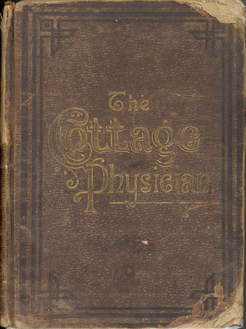 Click the cover to download and read the chapter
Reading old books is a sobering practice. We tend to forget what life was like even only a few decades ago and are too used to our own world to understand what it was like a hundred years ago. Those of us who happened to watch Little House on the Prairie may remember that a character who had a cough in the morning was sure to be buried before sundown. That wasn't too untrue to life. People died at all ages then, simply because they lacked the minimal knowledge needed to stay alive.
And so they had to make do with whatever ideas they could come up with to try to beat the Angel of Death, regardless of how far-fetched they were. That's why reading old books is sobering. Some books make you wonder how the human race has survived this long. "The Cottage Physician", printed in 1900 by the King-Richardson Co., in Springfield Mass., is one of them. It is not so much its illuminating paragraph on "How to Apply Leeches", or its sad reflections on the application of a poultice to stop gangrene, that leave us amazed. It is the chapter by The Specialist, Dr. W. E. Davis, on "The Healing Power of Electricity", that really does it for us.
Among the many idiotic statements made in the chapter, we learn that "it will not be long before no household will be considered complete without a battery for medical purposes". The specialist then proceeds to enlighten us:
"Beware of such frauds as electric pads, belts, bands, brushes, garments; also electric soaps, liniments, etc." he warns us. "They are made to deceive the public by men who know nothing about electricity.
"The galvanic battery produces the direct current upon which we rely mostly for decomposing and dispersing morbid growth, such as calcareous deposits about the joints, stone in bladder, tumors, nodes, and biliary calculi. It is our chief agent also in neutralizing morbid conditions and elements in the system by its chemical action, as also in skin diseases, cancerous, syphilitic and scrofulous."
And what could be fairer than that?
Keep your iPods charged, folks!