Published April 2012

A loving father's cry for help gets into the wrong hands,
and a hundred years later things get out of control.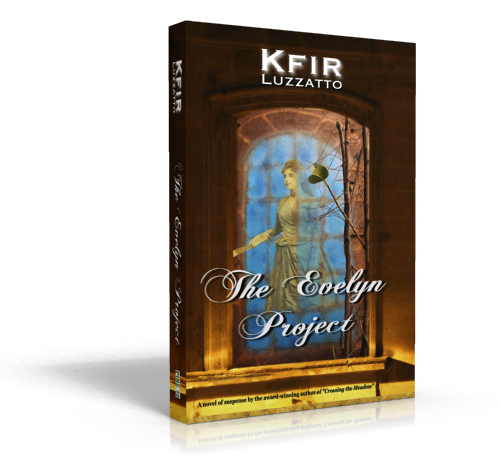 Evelyn's father did everything that was in his power to save his dying daughter, black magic included. But when a century later his plea for help gets into the wrong hands, all hell breaks loose.
Caught in the slippery battlefield between the Vatican and a cult that wants to change the past, a young Italian professor and a beautiful French aspiring actress are too busy running away from murder and conspiracy to let physical attraction develop into love.
And it doesn't help that Her Majesty's Secret Service decides to take an interest in what everybody else is doing and to pull some strings of its own. Quite the contrary, in fact…
What the Reviewers say:
"This is a fast-paced, intriguing novel that will keep you wondering until it's resolved in the closing pages. Kfir Luzzatto is an intelligent author who gives us an original story with turns of plot that hit you head-on! There were several surprises in the novel I didn't see coming, and I consider myself a seasoned reader. This is a book I can safely recommend to those who enjoy a thriller with paranormal and historical fiction underpinnings. You'll find the final repercussions just startling! I did." The Bookish Dame Reviews


"Kfir Luzzato has deftly crafted a very complex tale, weaving the mystery ever tighter and tighter, just until I thought I knew what was happening next and who could be trusted. Then he cast doubt in my mind, and wove the mystery another direction. Back and forth through the story--with a wide cast of varied characters to anchor his weaving...it kept me turning pages...I read this book as soon as I got my copy. And I reread it a few days ago, just before reviewing it. I enjoyed the second read even more than the first." Teresa Cypher


"This book was haunting from the moment you open it up till the end...Trickery, murder and confusion ensue and is wrought so transparently and well done by our author you cannot help but jump on the train and go along for the ride...it was like being in the middle of a REALLY good Hitchcock movie! but with WORDS instead of moving pictures!...I recommend this book to people who are looking for a literary tale that will have them at the edge of their seats, who like a bit of intelligent twists and a little Noire / hard-boiled feel to their tales sprinkled with mystery, suspense, thriller and a cast of characters that have you toasting each page turn!" Kriss Morton-Weekley, The Cabin Goddess


"The action circles back and forth in time, like an ageless spider spinning its web...Treacherous villains à la James Bond and Batman are thrown into the mix as we, the readers, nail bite our way through the story, mesmerized—one eye on the traitor in back of us, the other on the lush scenery whizzing past...A thriller with plenty of twists and turns and just the right touch of the paranormal, a mystery that spans the centuries—these are the ingredients that make THE EVELYN PROJECT an irresistible dish and I recommend it to all readers who love memorable books." Susan Russo Anderson, author of Death of a Serpent

Read more about The Evelyn Project...